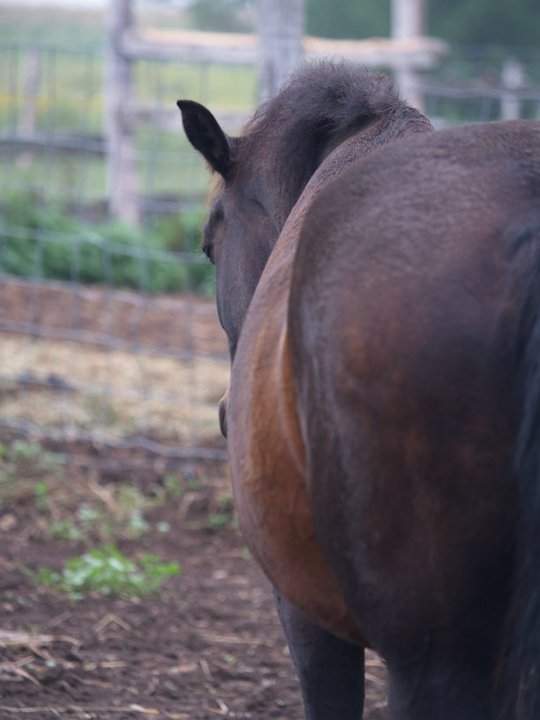 Welcome to our website… welcome to our home.

"Resolute"…The dictionary definition states the word "resolute" means characterized by determination, perseverance, courage in the face of obstacles, and an unwavering steadfastness of purpose.

That is what we as breeders, trainers, and riders at RFR aspire to be…it is also what we expect of our wonderful horses and, thankfully, they deliver it with a consistency that is both humbling and inspiring.


RFR was founded in 1989 and some of our first acquisitions after a 20 year hiatus from the country were two horses. These were used almost exclusively as trail horses until 1995 when we discovered Arabian Racing. We were determined to raise and train our own race horses but even a cursory analysis of the pedigrees of the winning (and losing) horses suggested our half-Egyptian mares were not suitable dams. We began our search for young race prospects who, if they proved themselves, might become broodmares.

It took two years but we found three wonderful mares, one straight Russian-bred, and two old-line Russian-Polish. One of them, Rainbui, was a truly great race prospect and, indeed, she was one of the two fastest mares of her time at Tampa-Bay. Her problem was her humans had a much slower learning curve than she did and did stupid stuff like putting apprentice jockeys on a maiden filly, running her against the boys just to fill a race, etc. Even so, she was a winner and… Boy! Did she have heart… that indefinable something that makes one horse the epitome of courage and any other horse a quitter.
Ultimately however, it was the fact that she and her "sister" broodmares were what are called "foundation mares" that really got things started. A foundation mare is one that, no matter the stallion, produces progeny at least as good as, if not better than each of the parents. The lovely pure Russian Statia produced RFR Polar Star when bred to RD Five Star, and MHF Celebration produced Ovation and I of the Flame, all beautiful, functional foals.

It was, however, Rainbui, (or "Rainy-Racehorse" as she is more affectionately known) who remains the real treasure. Bred to RFR I'ma Comet, she produced the extraordinary RFR Morning Rain. When bred to RFR Polar Star she produced RFR Silver Crescent and RFR Rain Buoy and last year she produced RFR The Icebaby from a breeding to RFR The Iceman. Every single foal has been outstanding and we aren't the only ones who think so. She has been leased three times for other foals and is currently in foal to a Versace son for a 2011 foal.

Meanwhile, the humans were also improving…we now had two licensed pari-mutual trainers on the farm, both licensed in multiple states. We had a number of successful race seasons with stakes quality runners, interrupted occasionally by personal and career requirements. We were not only learning to be better
trainers, we were learning how to breed the very finest performance horses since one goal we always had was to produce horses that could move seamlessly from the racetrack to eventual careers in Endurance, CMO, Dressage and Eventing, or any other activity for which they were suited.

We have had set-backs, of course…accidents and injuries we wept over (and spent small fortunes rectifying), actions by others that ruined something we loved and were passionate about (see the Arabian Racing tab) but all-in-all, it's been a wonderful adventure, a journey well worth taking, and now…

After almost two decades, we think we've arrived. We have foundation stock being carefully line-bred or out-crossed as the opportunity presents itself, and we have a herd of young stock that is proving to be talented, versatile, people-loving and extraordinarily athletic and well-conformed. Better yet, we have trainers and riders who love our animals and the opportunity to teach them new skills. People who want to help these youngsters find the best possible life-homes; homes from which they can go on to conquer any obstacle placed in their path…go on to lives in which they truly become and always remain, "Resolute Horses."

Pamela Fullerton

O/T Resolute Farms Racing